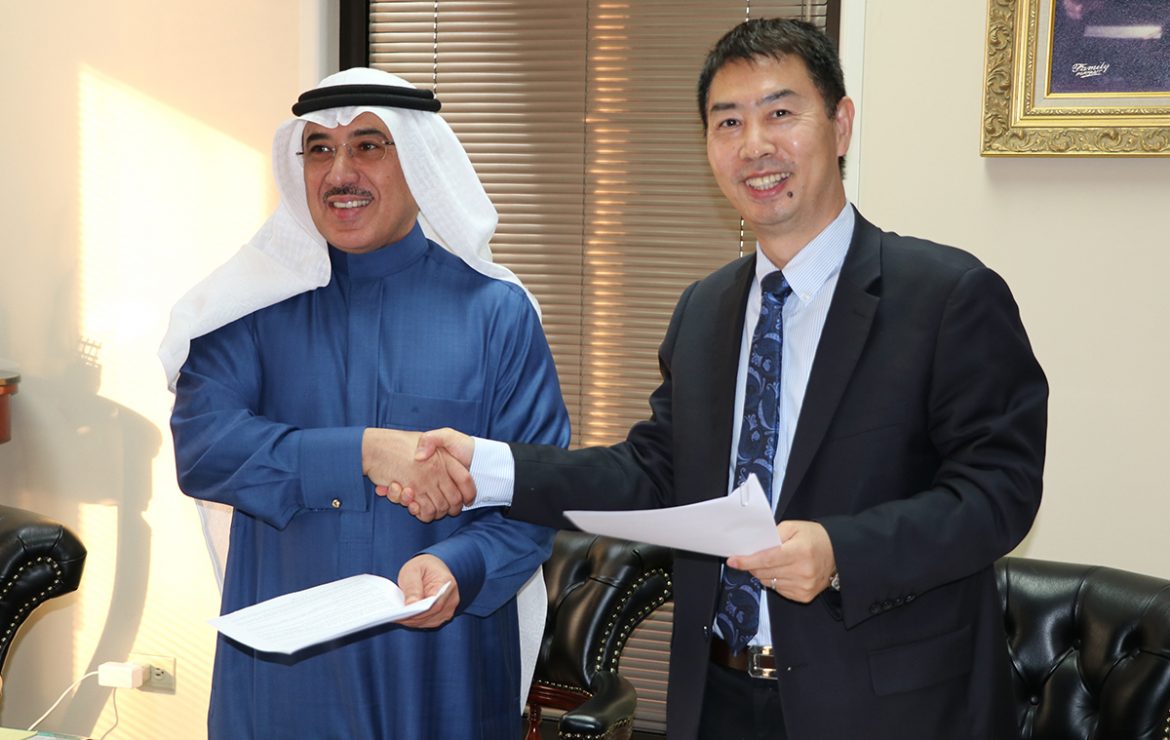 Signing Ceremony | توقيع اتفاقية
December 28th, 2021, marked an auspicious day for Sinopec Tech Middle East LLC – R&D Center (STEM) on signing a collaboration agreement with Abdel Hadi Abdullah Al-Qahtani & Sons Company (AHQ). The agreement will appoint AHQ as the exclusive representative of STME's Hydro Efflux Hammer service in the region. This is the first collaboration between STME and AHQ. The delegation was represented by Mr Feng Jiang Peng, STME CEO was welcomed by Sheikh Salah Al Qahtani, vice chaiman of AHQ. The ceremony was later joined by Sheikh Tariq Al Qahtani, chairman of AHQ. In his speech, Sh. Salah pointed out that AHQ strong presence and vast experience in the Kingdom and ME region will help Sinopec to market the products and services effectively.
Hydro-efflux hammer which is developed by Sinopec R&D in collaboration with Saudi Aramco has been proven to be one of the effective ways to increase drilling performance. It combines rotary shearing and axial percussion energy supplied to the drill bit to improve rock-breaking efficiency, particularly in hard and abrasive formations. The first trial test was a great success with ROP improvement of 42% from the average ROP of the offset wells given by Saudi Aramco drilling engineering
تم بحمد الله و توفيقه في 28 ديسمبر 2021 توقيع اتفاقية تعاون مهمة بين شركة ساينوبك الشرق الأوسط (مركز البحث و التطوير) و شركة عبد الهادي عبد الله القحطاني وأولاده. الاتفاقية ستعين القحطاني كممثل حصري لتوريد منتج وخدمة الحفر بالطرق الهيدروليكي (Hydro Efflux Hammer) التابعة لشركة ساينوبك في المملكة العربية السعودية و المنطقة. هذا هو التعاون الأول بين ساينوبك الشرق الاوسط و القحطاني. وقد مثل الوفد السيد فينج باينج جينج، الرئيس التنفيذي لشركة ساينوبك و الشيخ صلاح القحطاني نائب رئيس مجموعة القحطاني.
وانضم إلى الحفل في وقت لاحق الشيخ طارق القحطاني رئيس مجلس إدارة القحطاني. في خطابه ، أشار السيد فينج إلى أن حضور شركة القحطاني القوي وخبرتها الواسعة في المملكة ومنطقة الشرق الأوسط سيساعد ساينوبك على تسويق منتجاتها وخدماتها بشكل فعال.
كما أثبتت مطرقة الحفر الهيدروليكي التي طورتها شركة سينوبك للبحث والتطوير بالتعاون مع أرامكو السعودية أنها إحدى الطرق الفعالة لزيادة أداء الحفر. بحيث إنها تجمع بين طاقة القص الدوراني وطاقة الإيقاع المحوري التي يتم توفيرها لرأس الحفر لتحسين كفاءة تكسير الصخور ، خاصة في التكوينات الصلبة والكاشطة. و لقد حقق الاختبار التجريبي الأول نجاحًا كبيرًا تحسين معدل أختراق الصخور بنسبة 42 ٪ من القيمة التي قدمتها شركة أرامكو السعودية قسم هندسة الحفر.