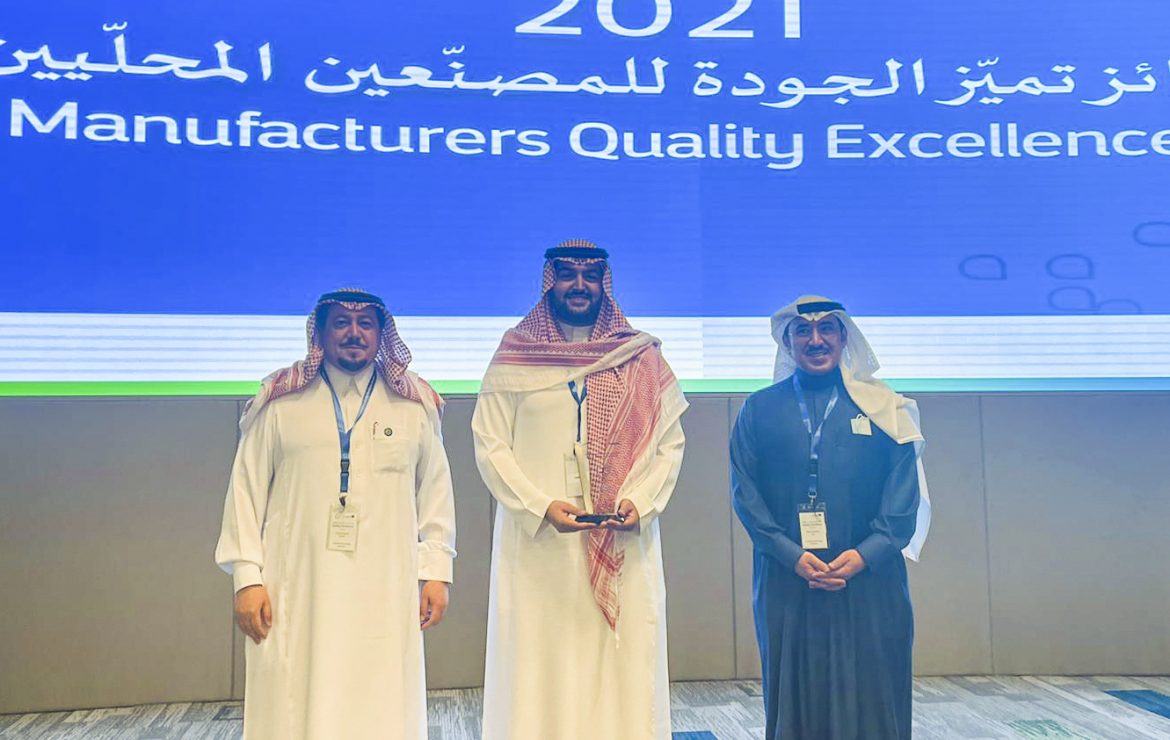 LMQ Excellence Award | جائزة التميز في جودة التصنيع المحلي
Saudi Aramco honors AQPCI for obtaining second place in LMQ Excellence Awards.
Last Thursday, on Jumada Al Thani 19 1443 corresponding to December 23, 2021, Saudi Aramco honored 13 local factories that were distinguished by excellent performance in quality and manufacturing. Al-Qahtani Pipe Coating Company won the second place during the Local Manufacturers Quality Excellence Awards ceremony for the year 2021, which was organized by Saudi Aramco in Dhahran.
This year's awards were classified in terms of quality into different categories, and Al-Qahtani Company was classified as one of the first category for large-scale manufacturing companies
 Eng. Mr.Abdulhadi Tariq Al-Qahtani expressed his gratitude and honor in Al-Qahtani Pipe Coating Company winning the second place award for quality excellence, and said that this enhances sustainability in the continuity of performance development and maintains a high level of quality in Saudi manufacturing according to the highest international standards under the slogan "Made in Saudi Arabia".
ارامكو تكرم شركة القحطاني لصناعات تغليف الانابيب على حصولها المركز الثاني في تميز الجودة

 
كرمت أرامكو السعودية يوم الخميس الماضي بتاريخ 19 جمادى الثاني 1443 الموافق 23 ديسمبر 2021, 13 مصنعا محليا تميزوا بالأداء الممتاز في الجودة والتصنيع،  وقد حصلت شركة القحطاني لتغليف الأنابيب على المركز الثاني خلال حفل جوائز التميز في الجودة للمصنعين المحليين لعام 2021م والذي نظمته أرامكو السعودية في الظهران . 
وصنفت جوائز هذا العام من حيث الجودة إلى فئات مختلفة، وقد تم تصنيف شركة القحطاني من الفئة الاولى لشركات التصنيع كبيرة الحجم. 
حيث أكد سعادة المهندس عبدالهادي طارق القحطاني عن امتنانه وتشرفه بحصول شركة القحطاني لصناعة تغليف الأنابيب على جائزة المركز الثاني لتميز الجودة، وهذا يعزز الاستدامة في استمرارية تطوير  الاداء وأن نحافظ على مستوى عال الجوده في التصنيع السعودي وفق أعلى المعاير العالمية تحت شعار «صنع في السعودية».